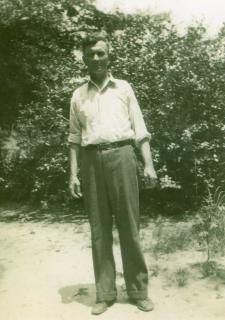 The Daily Times
Gainesville, Hall County, GA
Tuesday, April 13, 1965 Page 10


W.F. Buffington

Gillsville-
Funeral services for William Frank Buffington, 68, Gillsville route 1, will be held tomorrow (April 14) at 11 a.m. from Dunagan's Methodist Chapel. The Revs. John Glover and Roscoe Simpson will officiate with interment in Dunagan's Cemetery.

Mr. Buffington died in Hall County Hospital yesterday following an extended illness.

He was a retired textile employee of New Holland Mill.

The body will remain at the funeral home.

Survivors include his wife, Mrs. Ruth Buffington, Gillsville route 1; one son, Osborne L. Buffington, Gainesville; two daughters, Mrs. W.P. Chandler, Campabella, SC [***Note- should read "Campobello, SC"]; Mrs. Homer Hill, Commerce; 13 grandchildren; one great-grandchild; two brothers, Guy Buffington, Atlanta; Mark Buffington, Gainesville route 4.

Vickers Funeral Home has charge of arrangements.




Source: The Daily Times is on microfilm at Hall County Library, Gainesville, GA

Transcribers note: The children of Ruth and Frank Buffington are daughters, Frankie Dunagan (was deceased at this time), Inez Chandler, Nannie Hill and son Obourn L. Buffington. (NOT Osborne as listed in obituary).