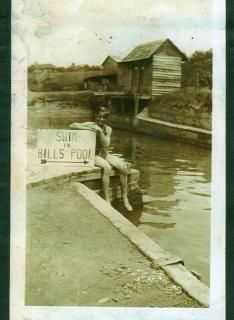 My great-grandparents, Dr. and Mrs. William Vance Chandler, had a pool in Baldwin, Habersham County, Georgia over 75 years ago. Although I'm not sure the exact date it was built, I know that my grandfather, Billy Chandler, enjoyed swimming in it as a young boy. He was born in 1914.
He told me how he would charge a nickel to let area boys swim in their pool and he'd charge the girls a dime because as a young boy "No one wanted to swim with a bunch of girls."
This picture was taken around 1930 when my grandfather Billy Chandler was in high school at Baldwin School. The unidentified boy in the photograph is not my grandfather but a friend of his that was photographed often at the Chandler pool.
****I just found out that this is a picture of my grandfather's first cousin's son. This is

Edward Fay Shore

, son of

Louis Fay Shore

from the Jacksonville, FL area. L. Fay Shore and my grandfather Billy Chandler were first cousins but Billy and Edward were much closer in age. Thank you Walter for helping me identify him!